Our prayer is that you would be blessed and strengthened by the power of Jesus Christ and that you will live a life of abundance in fellowship, joy and liberty. First Baptist Church of Holt is here for you. It is not only a church. It is a fellowship of believers coming together to declare the glory of the Lord and celebrate Jesus as King. We study the Word, practice what we learn and in the process grow together. May God richly bless you!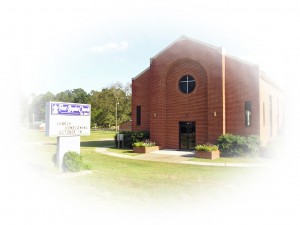 FBC-Holt will now be opening Wednesday night services starting May 20th and Sunday School and children's Church will resume on May 24th. The live stream on Sunday morning will continue to be available for those who cannot attend the service. We will be asking you to join us in taking some precautions as we begin to settle back into corporate worship:
If you are feeling sick, for the good of the body, please stay home and recover fully.
If you are high risk and do not feel you are ready to come back, please know we understand and support your decision; live streaming will continue as it has throughout the last month.
Please feel free to wear your masks during service.
We ask that there be no handshaking; we want to continue to practice social distancing for the safety of the body to the best of our ability.
We will have sanitizers located in each lobby, please use them coming in and going out.
We will not pass the offering plate, but there will be a box placed in the main sanctuary entrance that offerings can be dropped in for your convenience and for your safety.